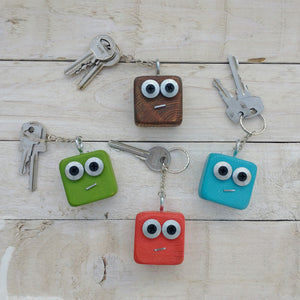 Reclaimed wood robot keyring, handmade by me, the Chief Scrapleteer.
It's time to jazz up your keys and make sure you never lose them again by adding this marvellous Scraplet keyring! Not only is this a guarantee that your keys will be 99% safe from theft, but their smiling face is certain to brighten up your day each time you unlock a door!
There's a whole cast of fun (and insane) Scraplet characters available in my Etsy store and on www.scraplets.co.uk. Take a look at @scraplets on Instagram for daily Scraplet updates and enter their magical world, listen to their favourite music and get some terrific life advice.
Viva le Scraplets!
UK P&P £1.50